Sat 9 Apr 2022 09:59
0
462
wikiplast.ir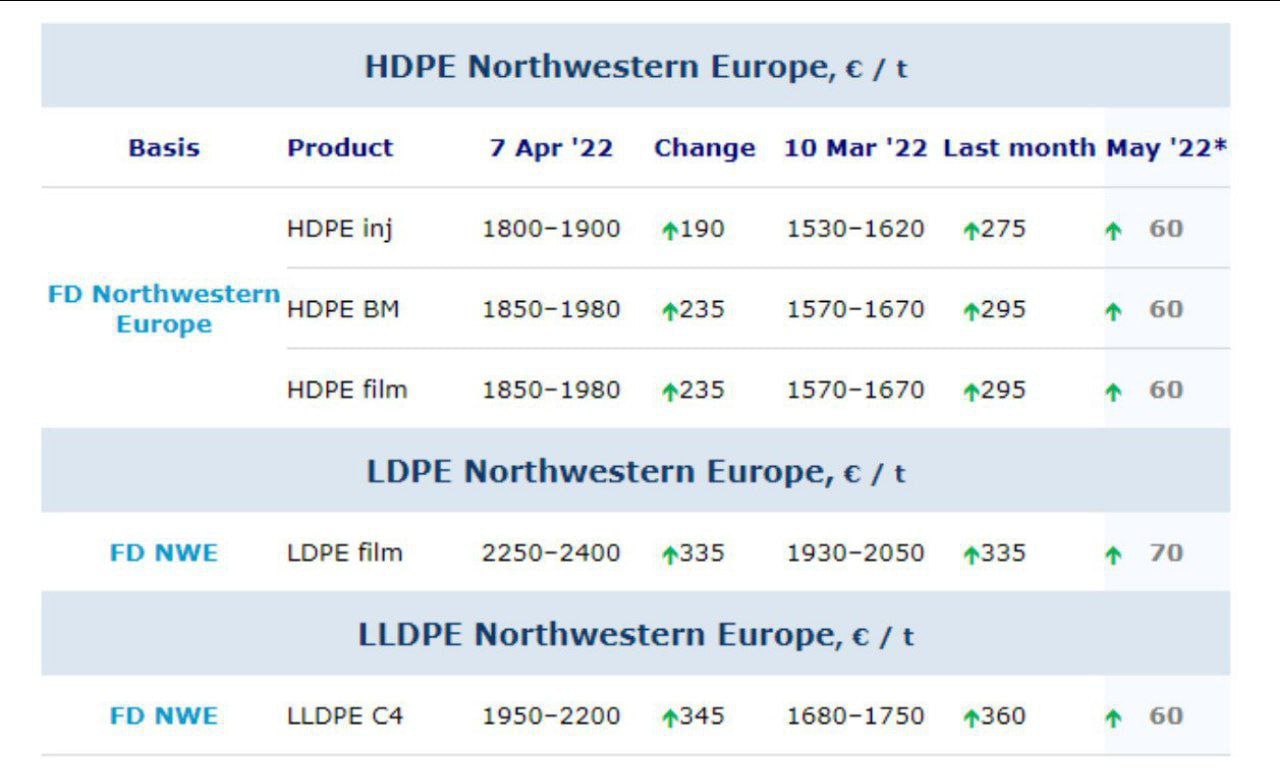 Ethylene MCP has been set at €1,665/t FD Northwestern Europe for April, €230/t up from the previous settlement. European PE makers have announced €200—360/t increases for April
"Energy fee" is around €90—140/t depending on product and producer. They announced it via special letters with calculations to customers,' a market player has commented. LyondellBasell and Borealis have hiked prices for special grades to €360/t. Versalis has increased PE prices by €260/t.

ExxonMobil has announced a €285/t rise this week, according to market players. Offers from SABIC have reportedly jumped to €2,250—2,280/t FD NWE for LDPE and €2,300/t NWE for LLDPE this month.
MOL Group has raised LDPE and HDPE domestic prices by €280/t and €270/t, respectively, in early April. Slovak LDPE is on offer at €2,305—2,335/t FCA now.

Hungarian film and blow-moulding HDPE is available at €2,035—2,055/t FCA and €2,075—2,100/t FCA, respectively, according to market players. Serbia's HIP-Petrohemija has increased prices for LDPE, film and blow-moulding HDPE by €100/t this week. LDPE is on offer at €2,100/t FCA. Film and blow-moulding HDPE is available at €1,850/t FCA and €1,820/t FCA, respectively.
Injection and film/blow-moulding HDPE prices have moved up by €190/t to €1,800—1,900/t FD NWE and by €235/t to €1,850—1,980/t FD NWE, respectively, this week. HDPE prices have remained at the NWE's levels in Central Europe. LDPE and LLDPE prices have increased by €335/t and €345/t, respectively, in Northwestern Europe. LDPE has been trading at €2,350—2,450/t FD Central Europe this week.
PE demand has dwindled in Europe, some market players say. 'Buyers restocked in March, expecting higher prices for April,' a market player has told. However, other players have mentioned that buying activity is higher than expected.

'Big customers built up some stocks, but they still need to buy something. Some customers are shocked, but they are ready to buy even at higher prices,' a Czech trader has commented. HDPE supply has been adequate in Europe, but LDPE and LLDPE availability seems to get tighter.

According to market players, SABIC has been facing issues at the LLDPE plant.
Rompetrol is yet to complete scheduled maintenance and therefore is running out of LDPE and HDPE stocks.
Meanwhile, SIBUR's product is available in the market due to contracts signed in late 2021—early 2022, according to market players. Some traders have already stopped cooperation with Russian companies as a lack of trucks, rising transport costs, long queues on borders are hampering supplies from the country.
PE demand will be moderate early next week but then will decline due to Easter Sunday. Prices will be unrevised or slightly adjusted. LDPE and LLDPE supply may decrease if demand is higher than expected in Europe.
Write your comment